<< Back to Map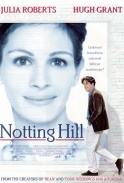 Notting Hill (1999)
Notting Hill, 124min, United States, United Kingdom
Romance, Comedy
Roger Michell, Julia Roberts, Hugh Grant, Rhys Ifans, James Dreyfus, John Shrapnel, Tim Mcinnerny, Gina McKee, Hugh Bonneville, Emily Mortimer, Dylan Moran
A famous actress, Anna Scott (Julia Roberts) is filming in the small town of Notting Hill, England. While out on an excursion she drops into a local bookstore and meets its owner, William Thacker (Hugh Grant).
The two create a friendship and William asks Anna to join him at a dinner party. She agrees and the two start dating.
For the first time, Anna relaxes and enjoys the relationship with her new beau, until someone leaks to the press Anna's whereabouts.
Enraged, Anna believes that William just wants her for the fame and popularity. She calls her agent and quietly leaves the small town of Notting Hill.
As the months pass by, she learns that William actually had feelings for her and she returns to apologize—but everything has changed for the once heartbroken William.
(renegypsy)