<< Back to Map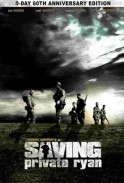 Saving private Ryan (1998)
Saving Private Ryan, 169min, United States
War, Drama, Action, Historical
Steven Spielberg, Tom Hanks, Edward Burns, Tom Sizemore, Matt Damon, Jeremy Davies, Adam Goldberg, Barry Pepper, Giovanni Ribisi, Vin Diesel, Ted Danson
During World War II, two brothers are killed during the same battle. A week later their brother is killed in action.
While typing death notices, a secretary at the war department notices that three Ryan brothers have died around the same time. The department learns that there is one brother left, Private James Ryan (Matt Damon), who is still alive.
The department enlists a group of Rangers led by Captain John Miller (Tom Hanks) on a mission to find the fourth brother and get him home alive.
The mission that seems impossible leads the group through many dangerous encounters, as they search throughout multiple war zones.
The mission becomes a personal battle for Captain Miller as he and the group try to locate Private Ryan, before he too, is killed in action.
(renegypsy)