<< Back to Map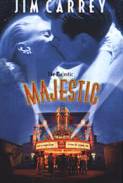 The Majestic (2001)
The Majestic, 152min, United States
Drama, Romance
Frank Darabont, Jim Carrey, Laurie Holden, Bob Balaban, Jeffrey DeMunn, Hal Holbrook, Martin Landau, David Ogden Stiers, James Whitmore, Ron Rifkin, Brent Briscoe
Pete Appleton (Jim Carrey) is on cloud nine. His film, "Sand Pirates of the Sahara" has just been released in theaters and his dreams of being a full-fledged screenwriter have finally been realized. As if his success is not enough on its own, he's also in love with a Hollywood star (Amanda Detmer). Pete couldn't be happier.
But it's the 1950's and all too quickly, Pete's luck takes a turn for the worst. Pete is blacklisted.
Obviously upset and in a dire situation, Pete drinks too much and ends up crashing his car. When he awakes after the crash, he does not remember who he is. He wanders into a nearby town and the townspeople mistake him for a missing war hero--Luke. Not knowing any better, Pete embodies the role of Luke. He reunites with his father (Martin Landau) and his pre-war girlfriend (Laurie Holden) and reopens the old movie theater previously owned by his family--The Majestic. His presence in the town has brought happiness and hope to the people who've lost it during the war. When he inevitably remembers who he is, will he have to give up his new life and devastate the town he's come to love?
(Jessica2014)