<< Back to Map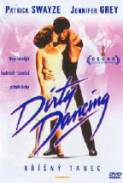 Dirty Dancing (1987)
Dirty Dancing, 100min, United States
Romance
Emile Ardolino, Jennifer Grey, Patrick Swayze, Jerry Orbach, Kelly Bishop, Jane Brucker, Cynthia Rhodes, Max Cantor, Neal Jones
In the 1960s, an affluent family takes a vacation at a resort where the intelligent and go-getter daughter, Baby (Jennifer Grey) is fascinated by the resort's dance crew. She is particularly interested in the bad-boy style of Johnny (Patrick Swayze), the head dance instructor.
There are strict rules about the dancers not dating the guests, but only showing them a good time.
Unfortunately, trouble brews when the lead female dancer, Penny (Cynthia Rhodes) gets pregnant and cannot dance in the summer's competition. Baby, the forever optimistic, volunteers to take Penny's place.
Johnny is a strong dancer and has a short amount of time to teach Baby how to dance for the upcoming competition.
During their dance lessons, they start a forbidden romance. Shortly after, trouble follows them as they try to secretly stay together.
(renegypsy)